What is ITIL®?
ITIL is used by millions of professionals globally. Businesses are built on ITIL.

ITIL supports organizations and individuals to gain optimal value from IT and digital services. It helps define the direction of the service provider with a clear capability model and aligns them to the business strategy and customer needs.

ITIL, a professionally recognized certification scheme, provides comprehensive, practical and proven guidance for establishing a service management system, providing a common glossary of terms for businesses using IT enabled services.

ITIL is a widely accepted approach to IT service management (ITSM), which has been adopted by individuals and organizations across the world. It provides a cohesive set of best practice, drawn from the public and private sectors internationally.

The ITIL approach provides guidance to organizations and individuals on how to use IT as a tool to facilitate business change, transformation and growth. ITIL is mapped in ISO 20000 Part 11. This recognizes the way that ITIL can be used to meet the requirements set out for ISO 20000 certification and the interdependent nature with ITIL. This is the first such mapping that ISO (the International Organization for Standardization) has allowed to be part of their standards. The ITIL ITSM Best Practice is supported by a certification scheme that enables practitioners to demonstrate their abilities in adopting and adapting the framework to address their specific needs.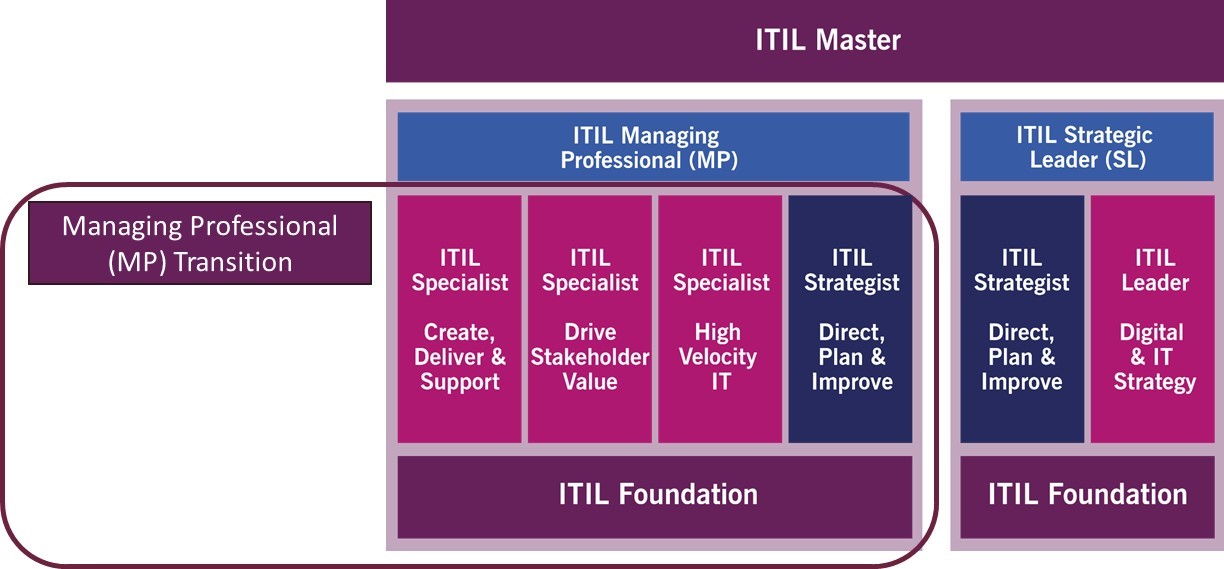 ITIL 4 is built on the established core of best practice in the ITIL guidance. ITIL 4 provides a practical and flexible approach to move to the new world of digital transformation and embrace an end-to-end operating model for the delivery and operation of products and services. ITIL 4 also provides a holistic end-to-end picture that integrates frameworks such as Lean IT, Agile, and DevOps.
Designed for candidates who have already invested in ITIL v3, the ITIL 4 Managing Professional Transition module provides a straight-forward transition path across to
ITIL 4.

The Transition module enables candidates to gain the up-to-date skills and knowledge needed to navigate the digital service economy, whilst recognising their previous achievements. It consists of a mandatory 5-day training and exam at the end of the course. Successful candidates are awarded the ITIL 4 Managing Professional designation.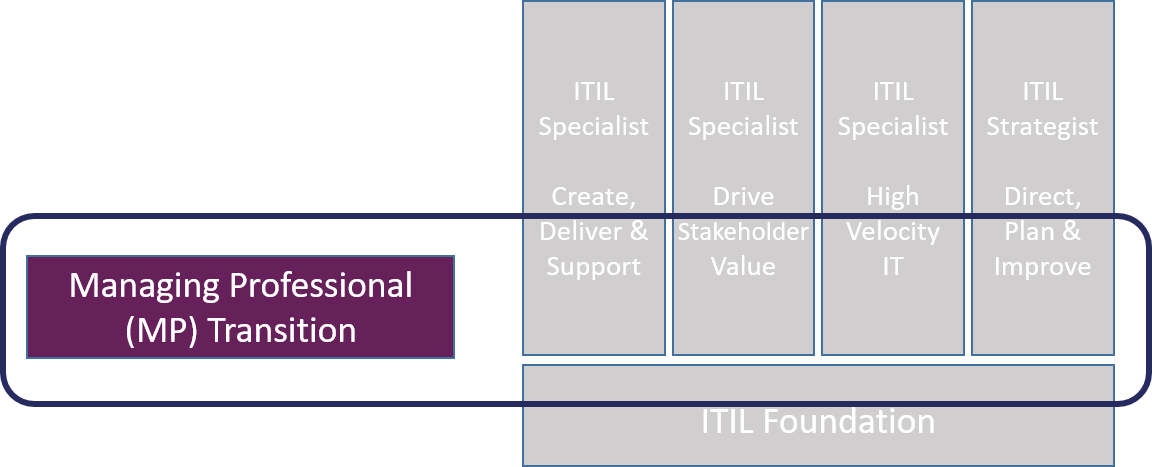 ---